Handpick vintage at our warehouse...
Our warehouse is full of vintage treasures at bargain wholesale prices! We offer private handpick wholesale appointments of all our Grade A and Grade B stock at our warehouse in Worthing. You'll see all the product categories on offer at our shops, kilo sales, and lots more unseen before...
Perfect for resellers needing to stock up their shops with a mix of branded and vintage secondhand clothing. We have helped source costumes for film & tv departments and stylists looking for unique pieces for clients. We supply the perfect mix of unique, retro and patterned vintage pieces alongside quality branded sportswear and streetwear.
What's in stock?
A huge range of menswear and womenswear items are available - currently we are offering summer stock such as Hawaiian shirts, funky pattern shirts, polo shirts, tie dye T-shirts, shorts (sport, cargo, pattern, chino), swimwear, windbreakers, crop tops, sportswear, baseball jackets etc. We offer clothing from a range of eras such as 60's, 70's, 80's, 90's and Y2K clothing. We have a supply of European, American and Italian vintage.
Plus all-year classics like sweatshirts, hoodies, tees, jeans, tracksuit bottoms and track jackets, blazers, waistcoats, army apparel, various jackets, denim, dresses, blouses, shirts, skirts, leather jackets, workwear and lots more.
We can also provide children's vintage clothing and wholesale vintage fabrics at special request.
We are currently preparing to re-open bookings - get in touch to join our exclusive waiting list as we offer limited spaces.
Pricing
Grade A: £30 per kg (inc. VAT). 20kg minimum purchase of this grade per appointment applies. 
Grade B: £20 per kg (inc. VAT). 20kg minimum purchase of this grade per appointment applies. 
*For your first appointment only a 10kg minimum purchase applies. Cash or card payments accepted.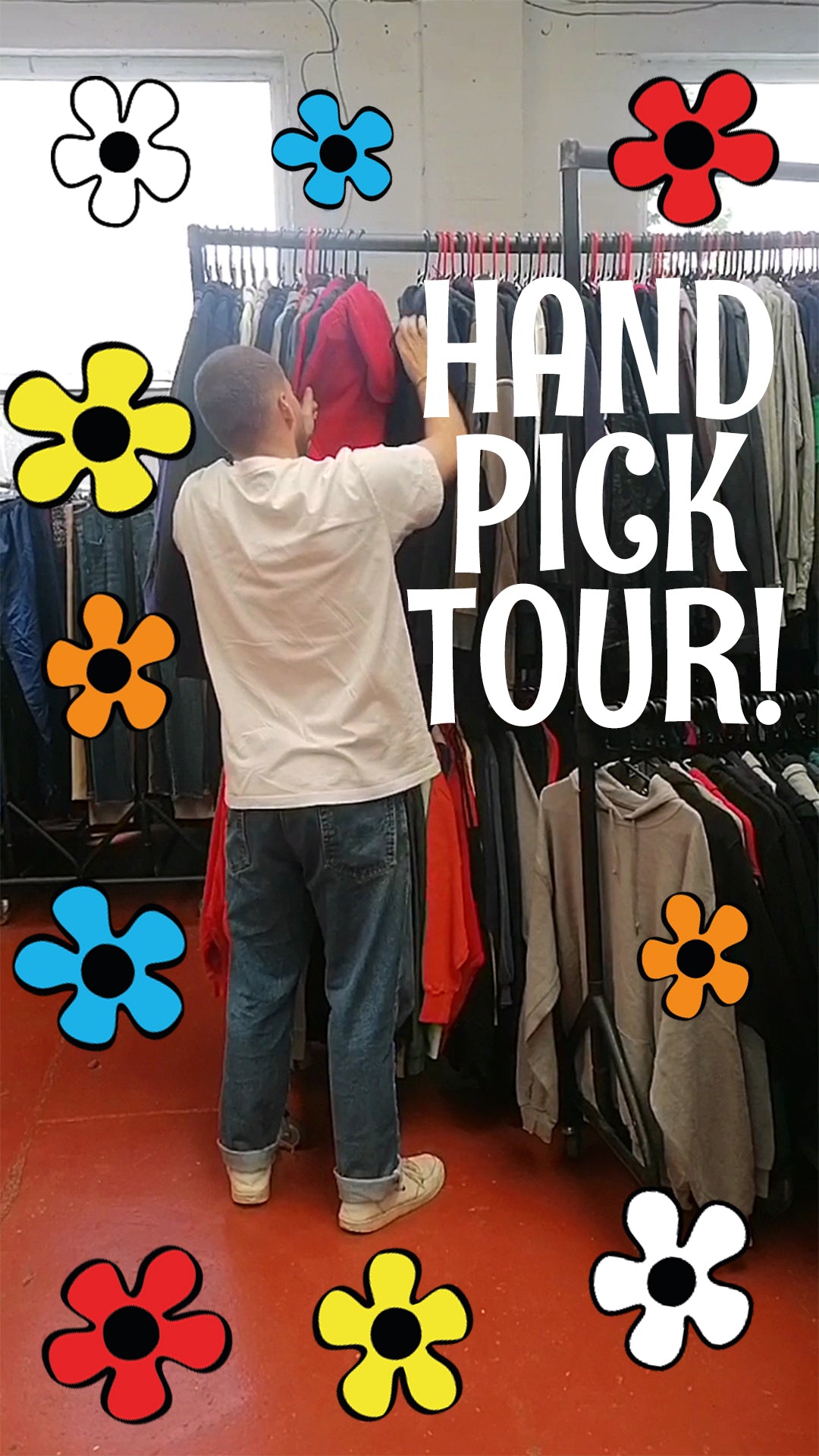 Picked by you
To see some of the goodies picked up at our handpick appointments and online bundles, check out our socials:
Youtube & TikTok: @tobewornagain
Instagram @tobewornagainwholesale
Take a sneaky peek BTS...
How to book?
You must book an appointment before visiting - unless you are attending a kilo sale.
If you haven't handpicked with us before and are curious to see samples of our stock in person before booking, we recommend visiting our monthly warehouse kilo sales where you can browse Grade B (without a minimum purchase). Make sure you don't miss any of the best pieces by booking an early bird ticket as the warehouse kilo sale is popular among resellers, shop owners, and vintage lovers!
Interested? Drop us an email: info@tobewornagain.co.uk or DM @tobewornagainwholesale